Labrochromis ishmaeli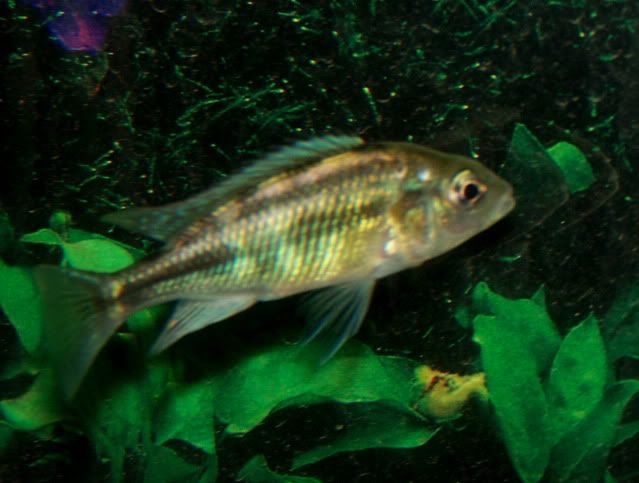 Tank size: 20 gallon grow out as fry, 40 gallon breeder as sub adults, 75 gallon as adults.
Aquascaping: Number 4 crush coral, 1 x small strawberry pot, 1 x 10 clay pot, 3 x med. size river rock, 1 fake tree root, 3 fake plants. I have the strawberry pot on one side if the tank. The 10 inch clay pot is on the other side of the tank. The tree root is in the middle of the tank about 3 inches from the back. The rocks and fake plants are scattered around the tank. The ishmaeli love the open space in the middle of the tank.
Filtration: One Emperor 400, 2x hydro 4 sponge filters.
Food: Kens cichlid flake, Kens tropheous flake, Krill, Myst shrimp.
Water changes: one time a week 30% water change with No Chlorine as the water conditioner. Sometimes I miss a water change because of my kids sports. When this happens I do a 40% water change with Prime as the water conditioner.
History: The Labrochromis ishmaeli came in on the German shipment. They came in as .5 to .75 inch fry. I grew them out in a 20 gallon as fry. Then I moved them to a 40 gallon breeder tank as sub-adults. It was not long before I realized they were going to need a larger tank. I then moved them to a 75 gallon tank. I tried a mixed tank at first. I had them with my f-1 cyrtocara moorii. They got along together very well. The only problem I had was the cyrtocara moorii were breeding but the Labrochromis ishmaeli was not. After this I moved out the cyrtocara moori. Now I have a species only tank.
Breeding: I really wanted to get serious about breeding my Labrochromis ishmael. I did some research and read that Axel and Marcos would prime the females with a high protien diet 3 days before a water change. They would use krill and myst shrimp to do this, so I tried it. Day 1 I fed them krill. Day 2 I fed the myst shrimp. On day 2 I notice a females tube dropping. Day 3 I fed them krill. Day 4 I did a 30% water change. I notice on day 5 a female was holding. Then I did not feed the tank for 3 days.
The holding female would hide behind the fake tree root in the middle of the tank. She would peek out every time I would feed that tank. I then notice a female tube had dropped. The holding female had been holding for 6 days. I did not want to tempt her with krill or myst shrimp. I tried something else I used some 1mm pellets from kens fish. They are growth pellets with 50% protein. The other female spawned 2 days later after a water change. Now I had a problem. I had no maternity tanks. I stripped the first female on day 14. The other female held the whole time and is holding today. I got over 30 fry on the first spawn, and I'm hopping for the same with the second female.
The first spawn of 30 are in a 2 gallon tank, and will be moved to a larger tank as soon as I make room for them. I like using very small tanks at first so it easy for the fry to find it's food.
Here are some pictures of my Labrochromis ishmaeli as sub-adults. I'll get some of them as adults soon. Sorry these picture are really bad. I'll up-date them with better pictures soon.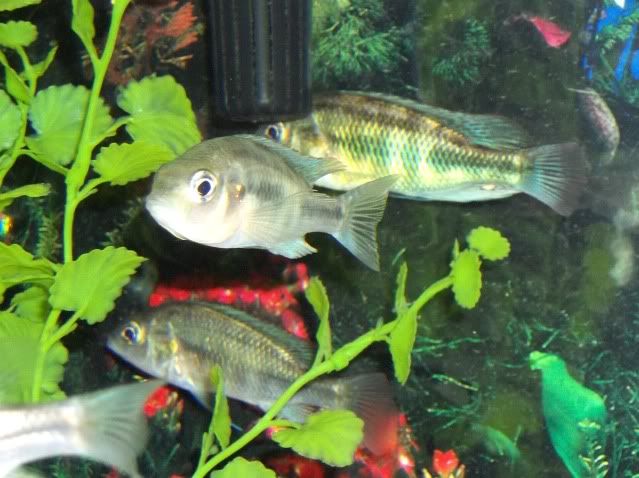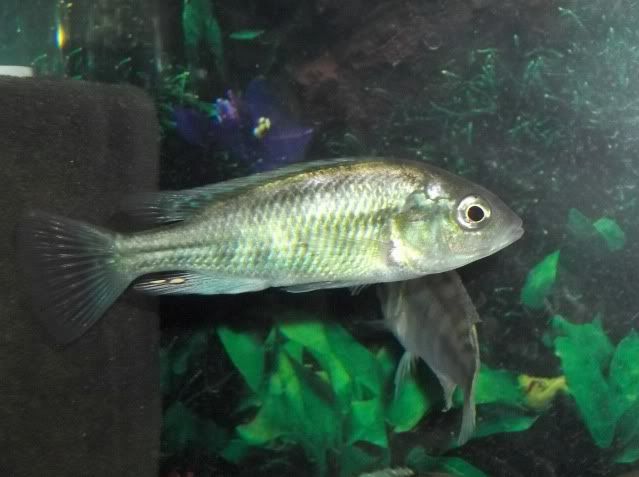 _________________
Big Jim
http://www.jnjcichlids.com/
2800 gallons and growing
"When injustice becomes law, resistance becomes DUTY!"
Thomas Jefferson.