Hello COV,
Oh boy, heck of a thread for a first post.
Hi, my name is Troy Veltrop. A victorian nut from Iowa. I am a member of the HCCC. I won't bore you with the details of my fish "resume" but I work a lot with the C.A.R.E.S. Preservation Program and concentrate specifically on long term maintenance of endangered species. Mostly victorians.
In the interest of this species and it's proper ID, I'd like to add the few unbiased observations and facts.
First, I hold no particular allegiance to Ross, the internet retailer from where he purchased this fish, Old World, or this site (no offense intended guys). My allegiance is to these fish. These are complete 100% unbiased opinions. I am also getting some of these to add to my long term maintenance program here in my fishroom. This is a very cool F1 victorian. Let's not put a dark shadow on it's identification when it should be crystal clear.
The whole reason for this thread was because Ross thought he was buying
Pundamilia

nyererei
"Makobe" not
Pundamilia

pundamilia
"Makobe". It isn't because he doesn't think that they aren't
Pundamilia pundamilia
"Makobe".
For those newbies who do not know, Old World Exotic Fish posts their fish list here:
http://www.oldworldexoticfish.com/stock.html
I have been eyeballing these fish for a long time now. In their defense, Old world has had the name correct all the time, it is the internet retailer that got it wrong (or at least the images the show for the fish). Old World had it listed exactly like this (cut and paste from the list):
40sm Pundamilia pundamilia "zebra nyererei" Makombe Is F-1
I also followed the 2007 import threads and even got a species off that shipment;
Neochromis greenwoodi
. I have some F1's of some of the other species from Texas stock. I have good friends who also got some of the imports and purchase most all my fish through a retailer with close ties to all of them. This is the same retailer (not the same as where Ross got his) who I purchased my group of
Pundamilia pundamilia
"Makobe" from and I am waiting arrival. They ultimately come from the same source, Old World, as the species pictured in this thread. There is no reason (except usual vic ID diligence), unless the fish mature to show otherwise, which would mean the original ID was wrong or cross breeding occurred, to suspect that these are anything other than F1
Pundamilia pundamilia
"Makobe".
The fish were imported in 2007. You can look at Old World's "What's New" for Oct 2007 here:
http://cichlidnews.com/indexwin.html
Choose Oct 2007 from the left menu and then scroll to the Lake Victoria section.
You will see an image of the fish and it's name
Pundamilia pundamilia
Makobe Island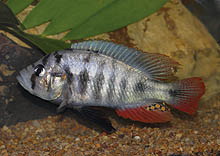 The above image is *currently* what the internet retailer lists for this species *among* these incorrect ones:
First wrong image:
Second wrong image:
The listing that this fish was purchased from is here and they have it listed as:
F1 Pundamilia (Hap.) Zebra Nyereri Makobe Is
The whole matter of confusion behind this fish is due to a mix-up between Ross and the retailer not the fish or it's correct ID. Ross thought he was purchasing
Pundamilia nyererei
"Makobe Island". I don't know what the text based part of the original ad said when he bought it, and I don't really care, but the images he looked at before purchasing the fish (and they're still there) are sure not
Pundamilia pundamilia
"Makobe". The last two sure aren't anyway and the first was only added after this ID thread popped up. Maybe they are listing it on their website as it was invoiced to them, but it is listed different on Old World's public lists. Using the most current scientifically accepted name is always a better practice but a lot still use old names or synonyms (or worse...just common names).
So
please
, unless someone thinks that the fish Ross posted are
not
Pundamilia pundamilia
"Makobe" can we at least agree on their ID as such? This thread could throw possible doubts on a properly identified fish. Who really cares who got it wrong, as long as we know the fish is true. It's an F1 victorian and you don't see those everyday.
Thanks guys and I hope none of you take any offense to this post. None is intended. I have no commercial interest in my fish. Purely preservation. I trade among my fellow hobbyists (if you can nail me down to one spot, eh Jason? Call or PM me dude I can hook you up with your riponianus and others!)
Peace,
~Troy